Questions With Scott Lindsay And Jamie Thackeray
Scott Lindsay:
Who is the best coach that you worked with and why?
Craig Lingard – he had the faith in me to be promoted to just a first team coach.
Have you played rugby?
Yes, I've played for  Ovenden, and Boothtown Terriers, Halifax Reserves and Keighley Cougars Reserves.
Who is your favourite player?
Barry McDermit – I loved his style of playing, he was as hard as nails.
Do you look up to anyone that helped you to coach?
I look up to every coach I've worked with. All coaching is stealing other coaches drills and putting your own stamp on.
Whats been your highlight of rugby league?
Winning the IPro Cup at Blackpool.
Which teams have you coached for?
Boothtown Terriers, Cougars Scholarship, Cougars Reserves and Cougars First Team.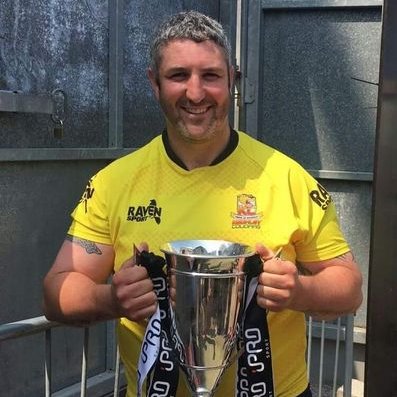 Jaime Thackeray 
Who is the best player you have played against?
That will have to be Kerion Cunningham. Just a class act,very hard to tackle.
Whats been your highlight of your rugby career?
Winning the Challenge Cup Final and playing for my country.
Who is your inspiration and why?
My parents, want them to be proud of me.
If you became a coach, which team would you coach and why?
Leeds, am a Leeds born and breed.
Who has been the most helpful person since you've moved to Cougars?
All lads have been fantastic, made me feel welcome.
Who is the best player that has played along side you and why?
Steven Kearney, true pro on and off field, and a great person.
Best player you have met and why?
Theres to many to mention a lot of great players and blokes playing.
Mick O'Neil (Chairman of Keighley Cougars) (left) and Jamie Thackeray (right).