China is the worlds most populated country, funnily enough, its one of the most interesting. So today we're going to be learning all about…
China!
Fun Facts:
The Chinese New year celebration lasts for 15 days!
In China every year is represented by one of 12 animals: I was born in the year of the pig (2007).
You can access green-bean-flavoured ice-cream in China.
In ancient times, some Chinese soldiers wore armour made out of paper.
It is said that the Great Wall of China can be seen from space; we will have a debate about that later on.
Many Chinese emperors considered themselves to be descendants of dragons.
Giant pandas are only native to China
Giant pandas are great swimmers.
Half of all of the pigs on earth live in China; that's a lot of bacon!
Chinese brides often wear red, which is a colour considered to be lucky.
China owns 20% of the world's population
1,413,882,810 people live in this country
Around 4,000 babies were named Àoyùnhuì (which translates to Olympic games) to show support for the Olympics being held in Bejing in 2008
The 2008 Olympic games in question were the most expensive Olympics in history. Its estimated that they cost £28,086,000,000.
The Great Wall of China:
Rather than being one long continuous wall, the Great Wall of China is made up of a number of different sections. These sections were built over a long period of time from stone and other materials.
Its main purpose was protection against attacks and invasions from the north.
The Great Wall of China stretches around 6300 kilometres (3915 miles) in length. If you measure the length of all the different sections of wall, the distance is more like 22000 kilometres (13670 miles).
The Great Wall of China is the longest structure ever built by humans.
The widest section of the wall is around 9 metres (30 ft).
The highest point of the wall is around 8 metres (26 ft)
The first parts of the wall were built over 2000 years ago.
A large number of workers have lost their lives while building the wall.
Major rebuilding of the Great Wall of China took place during the Ming Dynasty that began in the 14th century.
Earlier sections of the wall were made of stone, wood and compacted earth.
Some of the well-maintained areas of the wall, such as those near Beijing, are popular tourist destinations.
While some parts of the wall have been preserved or renovated, other parts have been vandalised or destroyed to make way for construction.
Rumours that astronauts can see the Great Wall of China from the Moon with the naked eye are untrue because Chinese astronaut Yang Liwei reported that he could not see the Great Wall. There was even talk about rewriting textbooks because this theory was said to be untrue. How about you decide, can you see it from this picture taken by NASA. 
Industry:
The range of Chinese goods includes iron, steel, aluminium, textiles, cement, chemicals, toys, electronics, rail cars, ships, aircraft and many other products. As of 2015, manufacturing is the largest and most diverse sector in the country. China is a world leader in many types of goods.
Chinese Art:
Chinese art is very traditional and visual art, have a see for yourself.
Traditional Clothing:
Chinese clothing usually has a cross-collar, sash or a long gown.
Here are some types of clothing:
Cheongsam: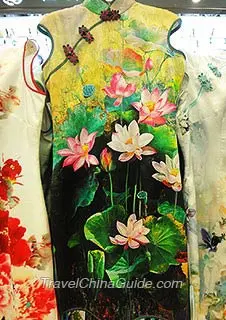 Traditional Suit: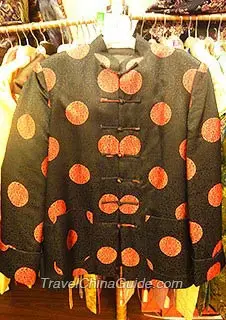 Famous Chinese books and their authors:
Journey to the West
Novel by Wu Cheng'en
Dream of Ding Village
Novel by Yan Lianke
Dream of the Red Chamber
Novel by Cao Xueqin
 Fun Facts about festivals:
Chinese, Spring festivals they clean out all of the tombs in China, worship their ancestors and more importantly go on outings in early Spring.
 In China is one of the many countries that hold Dragon boat races.
A large proportion of Chinese women and men get married during festival gatherings.
There are more than 1,000 Mazu temples of different sizes.
Chinese holy festivals include holy and solemn activities, unconventional and unusual revelry.
The Spring festival is the most wildly spread festival in all of China
In Northern China people eat dumplings on the Lunar New Years Eve.
In the South of China people eat boiled rice dumplings instead.
Apparently festivals immerged from the system of seasons.
At Chinese festivals they eat colourful food and drink cultural drinks.
On the 8th day of the 2nd Lunar month, the whole village prepares complete pigs as sacrifices.
I hope you enjoyed reading this article, and I hope you will now know a lot more about China then you already did.