5 Easter Dessert Recipes😋
5 Easter Dessert Recipes
In today's article, I'm going to be showing you 6 Easter-inspired desserts – each and every one of them are delicious!
1. Rice Krispie Nests🐣
Ingredients
4 cups marshmallows
5 cups rice cereal
1/4 cup coconut oil (or butter)
2 teaspoons vanilla
2 cups mini eggs
Instructions
Grease a 12-cup muffin tray and set aside.
Place the marshmallows in a large microwave-safe bowl and heat for 25-30 seconds. Stir well, and repeat heating as needed.
Add the melted coconut oil and vanilla extract to the marshmallows and stir well to incorporate.
Add the rice cereal cup at a time, gently folding it into the marshmallow mixture, until all of the cereal is incorporated.
Scoop heaping 1/4 cup portions of the Rice Krispie treats into the prepared muffin tray.
Wet your hands and press the Rice Krispies into a cup or tart-shape.
Place in the fridge for 2 hours or overnight to set.
When the nests have had a chance to set and harden, pop them out of the muffin tray using a butter knife and fill with treats. You can use mini eggs or jellybeans or some berries would also be delicious.
2. UNICORN DOUGHNUTS – VEGAN & GLUTEN-FREE🦄🍩
(I know these aren't really Easter themed but I just had to add these in because they are delicious!)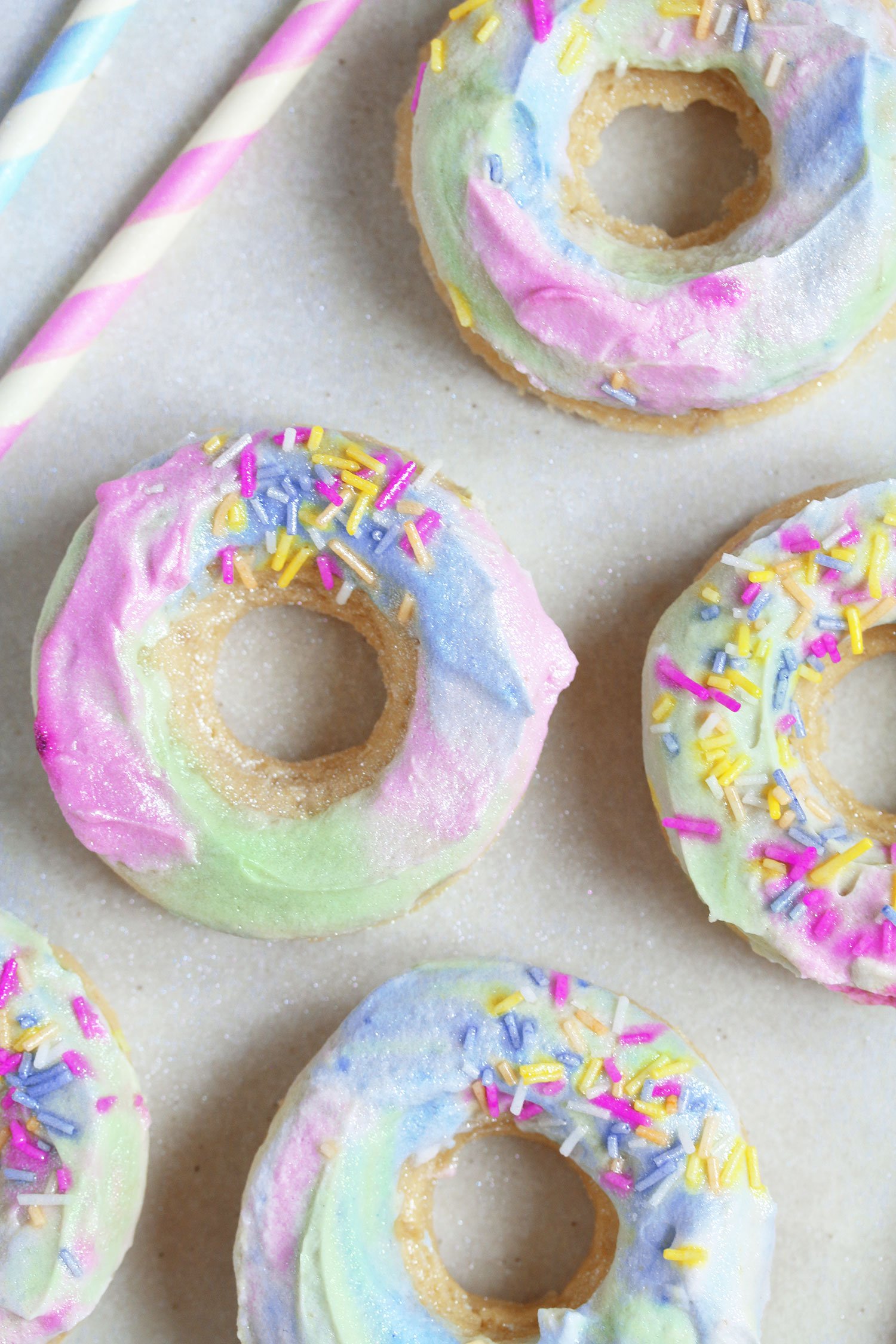 Serves: 8-10 
Ingredients:
1 cup (150g) gluten-free plain flour
4 tbsp coconut or brown sugar
1 tsp baking powder
1/2 tsp salt
1 tsp vanilla extract
5 tbsp coconut oil, melted
7 tbsp milk of choice
1 (400g) can full-fat coconut milk – refrigerated for at least 8 hours
Food colouring – I used matcha for the green, beetroot powder for the pink and blue matcha for the blue, but you can use shop bought food colouring if you can't find any of these ingredients.
Method:
Preheat your oven to 180*C / 350*F
Mix the flour, sugar, baking powder and salt in a bowl.
Add the melted coconut oil, milk and vanilla extract. Mix to combine.
Lightly oil a silicon doughnut tray and divide the mixture equally between them.
Bake for 20-25 minutes. Leave to cool completely before icing otherwise the frosting will melt!
Using the solid part of the coconut only, transfer to a bowl and whisk using a hand mixer until light and fluffy.
Divide the mixture evenly between 3 bowls and start adding different colours into each. Add a little at a time until you're happy with the colour.
Now add all 3 colours back into a large bowl, side by side not on top of each other.
Dip each doughnut in twisting it to the right then left until you have an even coat of the frosting. Twisting it around while dipping will create the swirly effect.
Enjoy!
3. Vanilla Shortbread Bunnies🐰
Ingredients:
1 cup butter, room temperature
1 cup icing (powdered) sugar
2 1/4 cups all-purpose flour
2 tablespoons pure vanilla (yes, tablespoons)
Method:
Preheat oven to 325F. In a stand mixer fitted with a paddle attachment, cream the butter and icing sugar on medium speed until light and fluffy. Scrape down the sides of the bowl.
Turn the mixer to low and add the flour and mix until just combined. Scrape down the sides of the bowl. Add the vanilla and mix to combine.
Place the dough on a lightly floured work surface. Use a ruling pin to roll out the dough to about 1/4 inch thick. Use a cookie cutter of your choice to cut out as many cookies as you can from the dough. Carefully transfer to a parchment lined cookie sheet and place the dough on.
Bake in the preheated oven for 15 minutes or until the cookies are lightly golden brown around the edges.  Remove from the oven. Transfer to wire racks to cool.
4. Sheep Cupcakes🐑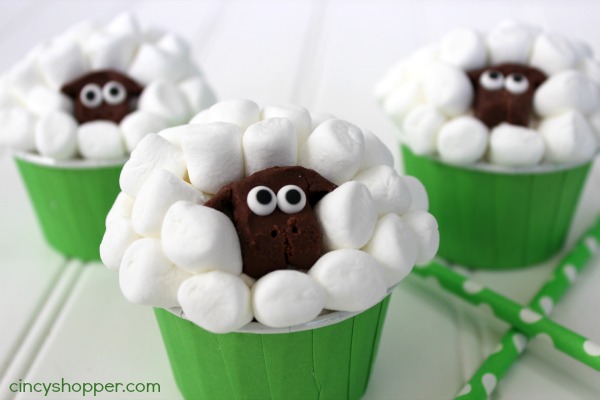 Ingredients:
1 box Chocolate Cake Mix
1/2 cup Vegetable Oil
3 Eggs
1 cup softened Butter
2 tbsp Milk
4 cup Powdered Sugar
6 oz Dark Chocolate Chips or Wafers
2 tbsp Corn Syrup
Method:
1. Melt chocolate in microwave by heating for 30 seconds then stirring and repeating the process until it is melted and smooth.2. Stir in corn syrup until well mixed. The mixture will be grainy.
3. Pour onto plastic wrap and allow to set for several hours (until firm).
4. Break off small pieces of the candy clay mixture and knead to soften.
5. Form each into a flattened cube 3/4″ x 3/4″ x 1/4″ tall.
6.To each of these we will attach ears at the top and using a toothpick we will carve in the mouth and nostril area.
7. Also, place candy eyes and press in place.
8. Allow the heads to set for 30 minutes.
9. Store remaining candy clay by sealing in a zippered bag and refrigerating.
10.Bake cupcakes according to box directions.
11. Allow to cool.
12. Cream butter and vanilla in a large bowl
13. Slowly add the powdered sugar, and milk as needed, until everything is incorporated and frosting is right consistency.
14. Beat for 5 minutes to make sure it is fluffy.
15. Ice cupcakes then decorate tops with sheep heads and mini marshmallow to represent wool.
5. Mini Egg Cookies🍪
Ingredients:

220g self raising flour
120g softened butter
100g caster sugar
80g brown sugar
1 egg
Vanillla essence
Mini Egg

Method:

1 Pre-heat the oven to 180 degrees

2 Beat together the butter and sugar

3 Add the egg and vanilla essence and beat together again

4 Sift the self raising flour and combine until the mixture forms a sticky dough

5 Next up we placed half the Mini Eggs in a bag and gave them a good bash with the rolling pin. Then pour them in the bowl and combine.

6 Roll the mixture into little balls and place on a non stick baking tray and squash down slightly.

7  Bake for 8 – 10 minutes and remove them whilst they're still soft.

8 Once cooled we added the rest of the mini eggs by pushing them gently into the cookies.
Thank you for reading my article and I hope you will now be able to create some delicious Easter-themed desserts for all of your friends and family to enjoy, or you could just make them and eat them all yourself 😋 ( your choice). See you in my next article, bye!!🤗